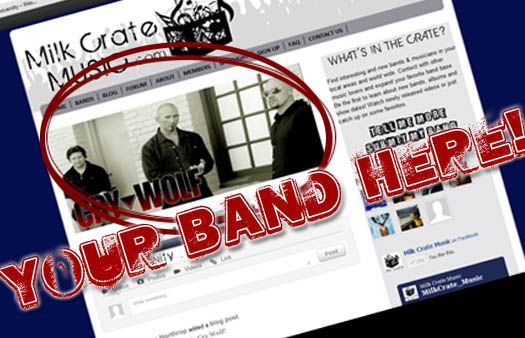 Every week we feature new Bands that have joined Milk Crate Music to be in our spotlight. What's the spotlight, you ask?

The spotlight is one of the many perks your band receives when submitting your band. We focus on featuring new, upcoming bands that are "underground" or haven't been "discovered". This isn't a contest... it's about finding new, great bands that we feel deserve a chance to be in the spotlight. We want to spread the word to our followers about your music... best of all, it's completely FREE for you!


If featured in the spotlight, your band gets:
Traffic from our many unique hits DAILY

Band picture with logo on the homepage of the website

Featured blog post that gets posted to the front page

The chance to gain more followers

Band exposure

And More!
Sound good? Here's what you gotta do -
1. Send us an email with your band name, members, and a few photos of you and your band.
2. Give us a little background of your band... how did you start? What are your musical influences?
3. Where are you touring/playing? We want to share and get the word out for you!
4. Include links to your social media profiles and website
Want to get free exposure for your band?
Get in the Crate!